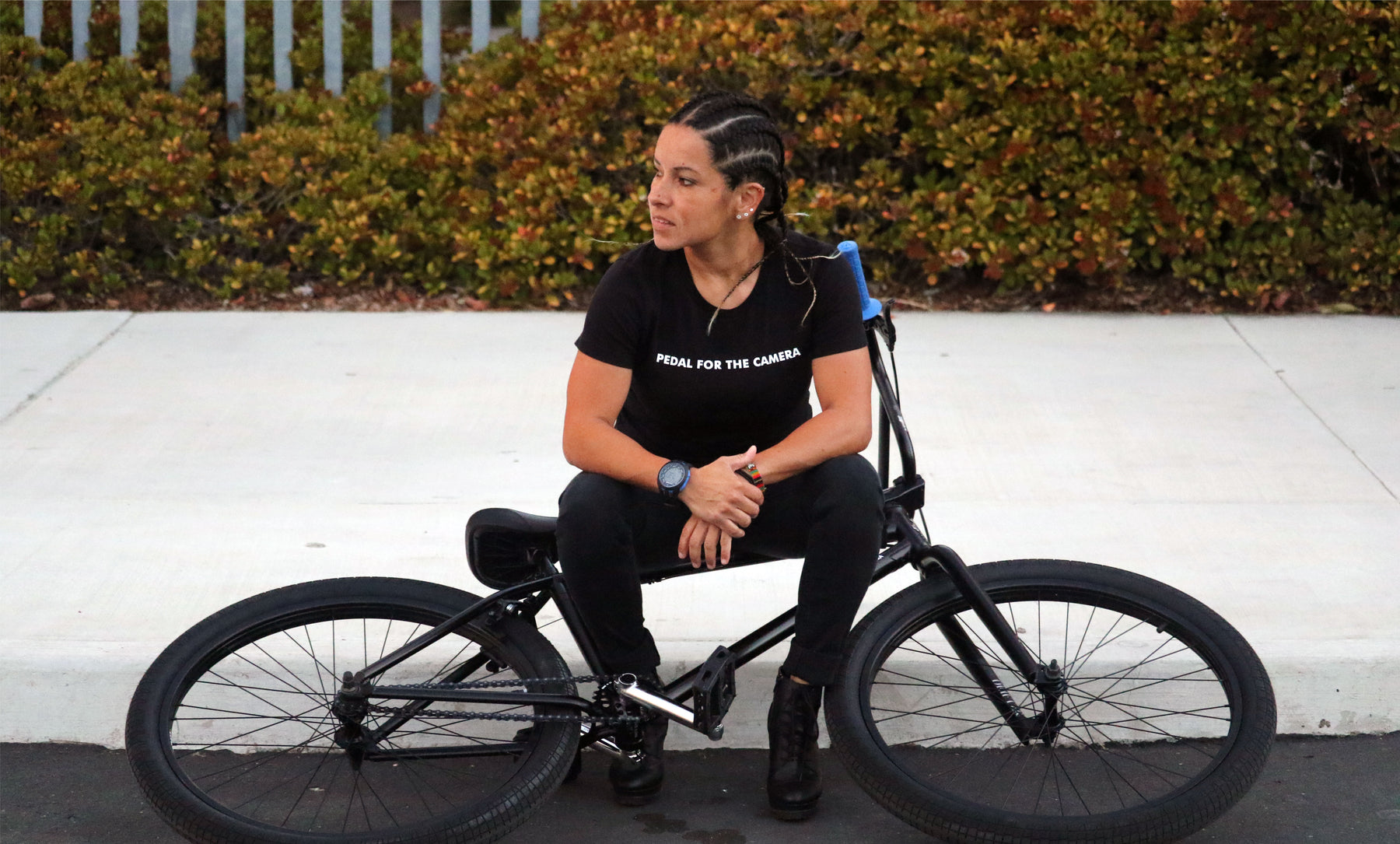 What fires RC up?
This mom, mentor, photographer, and BMX racer is no stranger to danger. Rocío Colón, RC, has been kicking ass for years, schooling her class, and teaching youngsters how to fall in love with their bicycles. Her words are spoken like a true Champion
Tell us who you are, RC. I live in San Diego, California, I'm a photographer, BMX Racer, mother of four, bike advocate, and mentor.
How did you get started racing BMX? I am originally from Lima, Peru. Back in 1987, I was introduced to BMX by my brother. I was nine or ten at the time, and he and his friend thought I'd like it so they talked me into checking out the local races. He was right, I loved it! I told my Dad I wanted to ride and I started racing using my brother's GT which was entirely too big for me, the rest is history. :)
I started winning races on my brother's bike and fairly quickly was asked by the National Peruvian team to represent Peru at the upcoming BMX World Championships, hosted in Chile. We traveled to Chile and knew I couldn't race it on that big GT. My Dad, a Congressman in Peru, bought me a new Robinson right there on the spot! There I was, about to race a completely new bike, at an international BMX competition. I was so excited, yet clueless, all I knew how to do was to ride and have fun, so that's what I did. I ended up making the podium at my first Worlds, everyone was shocked, as was I.
When I returned to Peru on my new bike, I really started dominating my class. Most of the girls I competed against hated me because I was the new racer on the block, beating everyone who had more experience than me. I liked winning and wanted more. We decided I should partner up with a trainer, who pushed me hard to be the best. To this day, I can't thank him enough for transforming me into the strong and fearless rider/racer I am today.
How did you end up moving to the United States? I raced many different international races around Latin America in those days, finishing on the podium, usually in first or second. It was amazing experiencing new cultures and making BMX friends all over. I grew up really fast competing in South America.
In Peru, I won the National Championships, I was featured in magazines and made appearances on TV shows, BMX was a big deal and being a girl racer made it even more newsworthy. My competitors and I started to become closer even though when it came to race time, I was all business.
When my parents realized it was getting too dangerous due to terrorism, especially for politicians, they decided to pack the family up and move to the US. I was 14.
We had family in Miami, and stayed with them for a short time, then moved to Virginia. Racing in the states was a trip, the first thing I noticed was how much taller girls are in the US. I wasn't that intimidated, I was competing in VA on my Robinson and began making new friends and winning.
I was asked to join my local tracks racing team, Winchester BMX and starting hitting some of the nationals. I did pretty good and ended up winning my first VA State Championships in the early '90s which was awesome.
Racing in the United States wasn't a huge transition for me, probably because I was used to traveling around and competing against riders from many other countries.
Because I raced early on, mostly in the East Coast, I wasn't very known on the West Coast. It wasn't after too long, being in Virginia, I decided to start a family in 1994-1995 and that became my priority. I took a break from BMX.
---
13 years later . . .
---
In 2007, one of my sons asked if I'd take him to the BMX track, I was like, sure! I immediately felt the itch at the track, I also noticed some things that had changed, like clips! I started racing again in 2008 and have been back in the sport off and on ever since...
To date, I feel I've achieved my goals in BMX for the most part, even though there's always something more to achieve in our sport. I'm a seven-time NAG 1 rider which means I finished #1 in the country in my class. My combined racing career in Peru and in the United States, I have over fifty national wins, and a handful of international titles.
What do you think it takes to be a winner? To be a Champion, you gotta have the desire, will, and confidence to win. I'll share the motto I've had since I was a kid. I always refer back to these three words, dedication, discipline, and perseverance. I've practiced this religiously, for me there is no other way. To win you have to be hungry for it, fight, take risks and be fearless. If you truly go after something with everything you've got, you can accomplish any goal you set for yourself, there is no limit.
Do you have a ritual to get yourself fired up? I usually sing a song in my head, that I know gets me pumped up, I focus and visualize what I want to achieve which readies my mind to go get it.
What goals have you set for the coming year? Last year, in 2018, I made another comeback after a bit of a break due to some life changes. I set the bar pretty high and achieved all of the goals I wanted for myself.
I try to be a good role model and lead by example. This year I've decided to focus on another passion of mine, which is my mentoring program. I really enjoy passing on the lessons BMX has taught me, by training and helping other BMX riders step up their game, to get to the top and stay there for as long as possible.
I consider myself to be a bike advocate and also work with kids and adults all over the county on how to ride safely on the streets, so they'll be able to ride and love their bicycles for a very long time as I have.
I've always thought it was important to give back to the community and teach the new generations of BMX.
How did you end up living in California? It was back in 2009 I started my first mentoring program back in VA, called RIDE. I also opened a bike shop with my own BMX team supporting riders in five different states. Around that same time, I was also elected President of my home track in VA called NOVA BMX. It was an amazing time.
Then wouldn't you know it, In 2012, I went to San Diego for a BMX National/Worlds qualifier and I fell in love with the place. California reminded me of Lima, where I'm from, the weather, the coastline.
I came back home and decided to leave it all behind and move to Southern California. I felt like it would fit my active lifestyle way better. I couldn't be happier with my decision, I love Cali.
I also have a photography business called Pedal For The Camera which is my way of capturing images of the sport and other activities that I am passionate about. There is nothing like capturing that perfect racing moment on film, I can't imagine life without it!
What advice would you share to someone following in your footsteps? Go after your dreams, be unique, be humble, and work hard. Set high goals, and believe in yourself. With dedication, discipline, and perseverance, you'll build the confidence needed to love yourself and everything you do. Go for it!
What's your favorite hot sauce? I'm not really into hot sauces, and I usually don't do spicy food. I do love Danger Snacks though, maybe because they are spicy and sweet. I give them to my students as part of my mentoring program to fire them up!
- - - - - - - - - - - - - 
👊 Thank you for sharing RC, you're awesome. See you at the races!
- - - - - - - - - - - - - 
What to be our next interview? Send us a message